The Allama Iqbal Open University (AIOU) has announced an E-registration for workshop resource persons. In furtherance of its campaign to digitalize education services for students, the Allama Iqbal Open University has decided to register Workshop Resource Persons.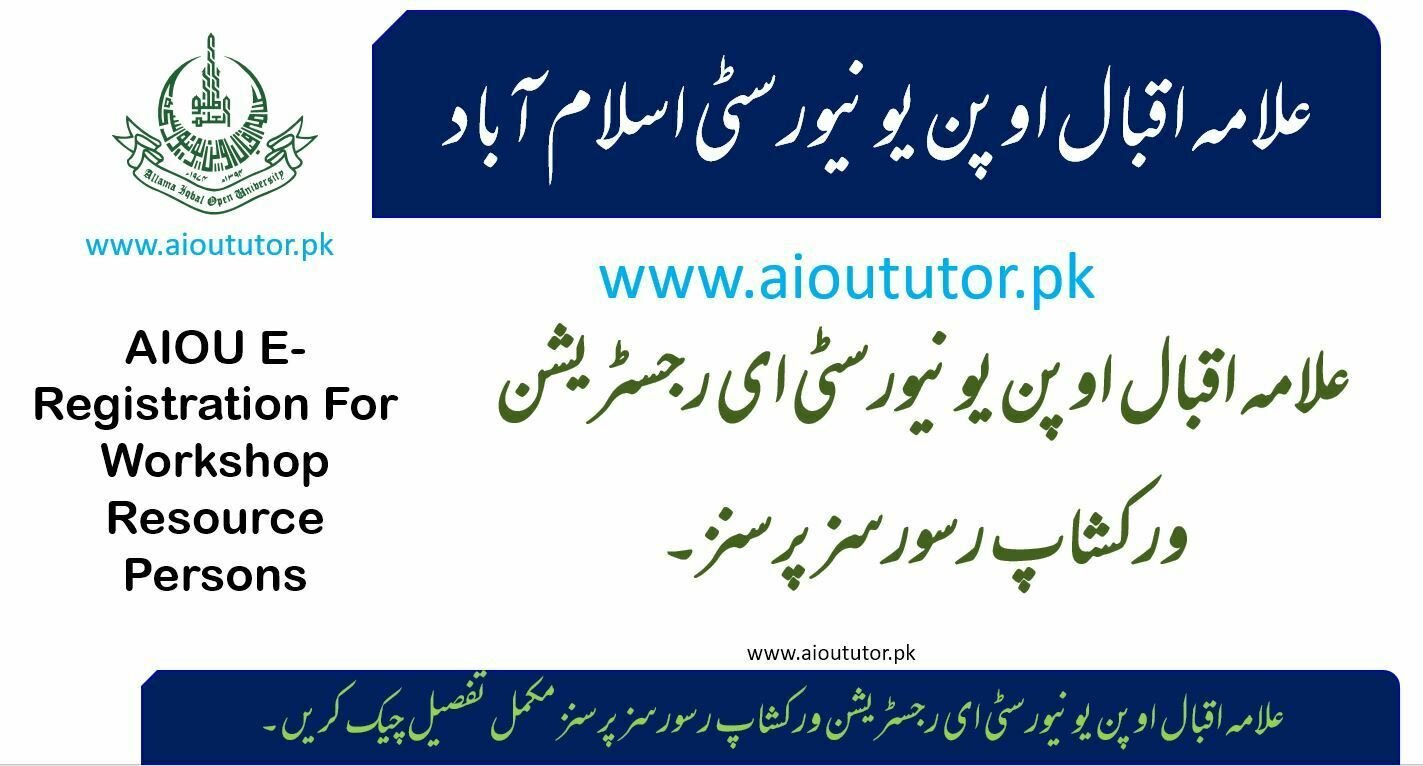 This is a registration drive for academics with experience using online teaching technologies (LMS, presentations, etc.) and who have taught BS/M.A/MSc/MPhil/MS/Ph.D. students. The global AIOU Workshop is open to professionals and organizations with a passion for innovation, digital transformation, and the future of education.. The AIOU E-Registration For Workshop online source on information by aiou.edu.pk.
Using this program, we want to empower people all around the world by giving them access to top-notch solutions from leading industry names.* The Aaghi Learning Management System (LMS) has been designed to help universities, colleges, and schools empower students with multiple innovative learning tools. + More Info on Digital Learning Solutions.
AIOU E-Registration For Tutorship:
Registered tutors that have already paid a verified fee do not need to submit an application again. All such applicants must apply for e-Registration through the portal, which is accessible from the link below:
Qualifications and Experience Required for e-Registration Candidates
The following are the qualifications and experience that applicants must possess in order to be considered:
Qualification
Experience

No teaching experience required

M.A/MSc (16 years) or equivalent

Note: Applicants with B.Ed/ M.Ed degrees will be preferred

Government Teachers with at least 03 years post-qualification teaching experience of intermediate level or above
Experience in Private Institutions / Private + Government Institutions 05 years post qualification
Visiting faculty members of the university's 01-year post-qualification experience
A processing fee of Rs. 1000/- is to be paid in any ABL, UBL, or FWBL branch. It may also be done through Easypaisa, Upaisa, Telenor, and U Bank bank branches.
By August 5, 2021, applicants must submit their applications.
There is no need to send the deposit slip to the main Campus/University as it is kept with the applicant.