The Allama Iqbal Open University has launched AIOU Online Fee Payment using Easypaisa, JazzCash, and Upaisa payment methods to make it easier for students to pay their fees. The new way of paying for free in an AIOU account is very safe. You can pay your fee online in minutes. You don't need to go anywhere for open university admission.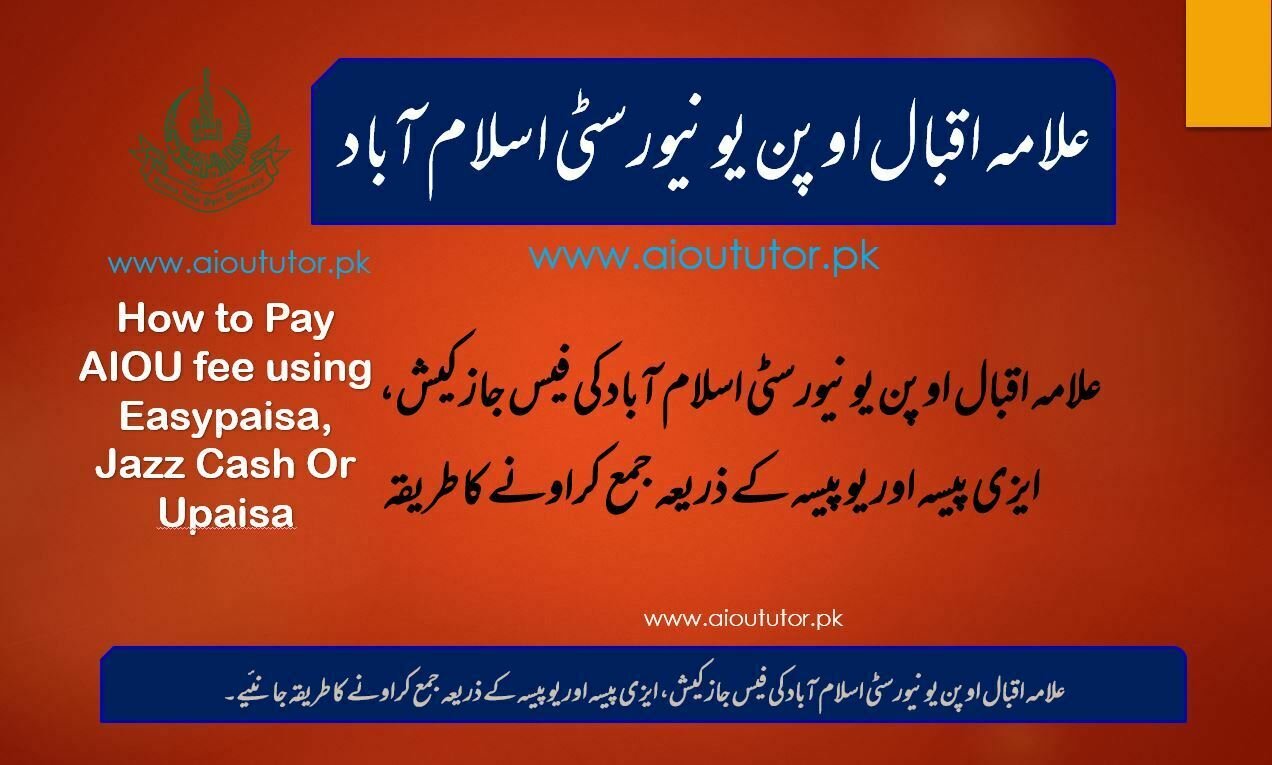 Students were concerned that owing to the imposition of aiou admission fees and other charges only in certain bank branches, they would be delayed or stood in line for an extended period of time, with the last date ultimately coming.
The students had initially paid their fees at the beginning of the semester, either through bank transfer or drop boxes. However they were told to pay via Easypaisa at least two weeks before each semester's end date. Failure to do that would result in an incomplete admission status, which would eventually lead to registration cancellation.
Now, because of the above-mentioned change, aiou has started receiving online payments from a mobile account, which is quite beneficial for current aiou students who wish to enroll at Allama Iqbal Open University.
In all semesters of the following New Year 2021, an online form was introduced for AIOU Admission Fee payments through the JazzCash Payment Method.
Allama Iqbal Open University has developed a system to save students time by paying online fees without having to visit a bank branch, as we now live in the digital world. Every individual strives to save time, therefore Allama Iqbal Open University has upgraded its system to allow students to pay their AIOU free.
How do you pay the AIOU's online course fee using Jazz Cash Upaisa?
For individuals with some experience with jazz cash, Easy Paisa, and Upaisa, or those who don't know how to pay aiou fee, paying your AIOU fee online is a very simple procedure.
AIOU Fee Pay Via Easypaisa Method
| | |
| --- | --- |
| Via Mobile App | USSD CODE |
| Login to Easypaisa App> Bill Payment> Education> Select Allama Iqbal Open University> Enter Challan Number > Press Next | Dial *786#> Select "4" (Payments)> Select "7" (Fee Collections)> Select "99" (Next)> Select AIOU> Enter Challan No.> Enter Mobile PIN |
AIOU Fee Pay via  Jazz Cash Method
| | |
| --- | --- |
| Via Mobile App | USSD CODE |
| Login to Jazzcash App> Click on Education Fee> Select Universities> Select AIOU> Enter Challan Number> Enter MPIN | Dial *786#> Select Payments> Select Education Payments> Select AIOU> Enter Challan No.> Enter Mobile PIN |
AIOU Fee Pay via Upaisa Method
| | |
| --- | --- |
| Via Mobile App | USSD CODE |
| Login to Upaisa App> Click on Payments> Click on AIOU> Enter Challan Number> Press Pay Now | Dial *786#> Select Payments> Select AIOU>  Enter Challan No.> Enter Mobile PIN |